Ministry Options
Each group can choose 4-8 of the following ministries:
Children's Ministry

Vacation Bible School or kids club

*Service Projects

Construction, repair work, painting, clean-up work

Church Ministry

Attend, participate, or lead church and/or Sunday school

Sports Ministry

Soccer, football, baseball, basketball, volleyball, etc.

Spanish Ministry

Although the official language of Belize is English, we would be glad to partner you with Spanish-speaking churches and villages

Outreach Nights

Game nights, concerts, youth night, family night, love feasts

Home Ministry

Provide blessings to individual families. This could include service projects, clean-up, Bible studies, and anything that helps to build cross-cultural friendships and relationships

Prayer Ministry

Prayer walking or prayer meetings

School Ministry

Observe classes, lead chapel, participate in recess activities

**Mercy Ministry

Senior citizen centers, hospitals, prisons, orphanages, visits to shut-ins

Evangelism

Large group gatherings, door-to-door ministry, street ministry

Youth Ministry

Lead youth gatherings and provide teaching, worship, fellowship activities

 

Adult Ministry

Parenting classes, Bible studies, topical studies

Medical and Dental Ministry

Teams of licensed medical professionals are needed to provide care in underserved villages throughout Belize.
*Service Projects: If you choose this ministry your chosen donation amount for materials will be added to your final invoice.
**Mercy Ministry: One of our mercy ministry options is to serve alongside Hopewell Children's Home. For details about what a Thirst Missions trip to Hopewell includes please call 651-464-2212.
Download a copy of our Ministry Options here.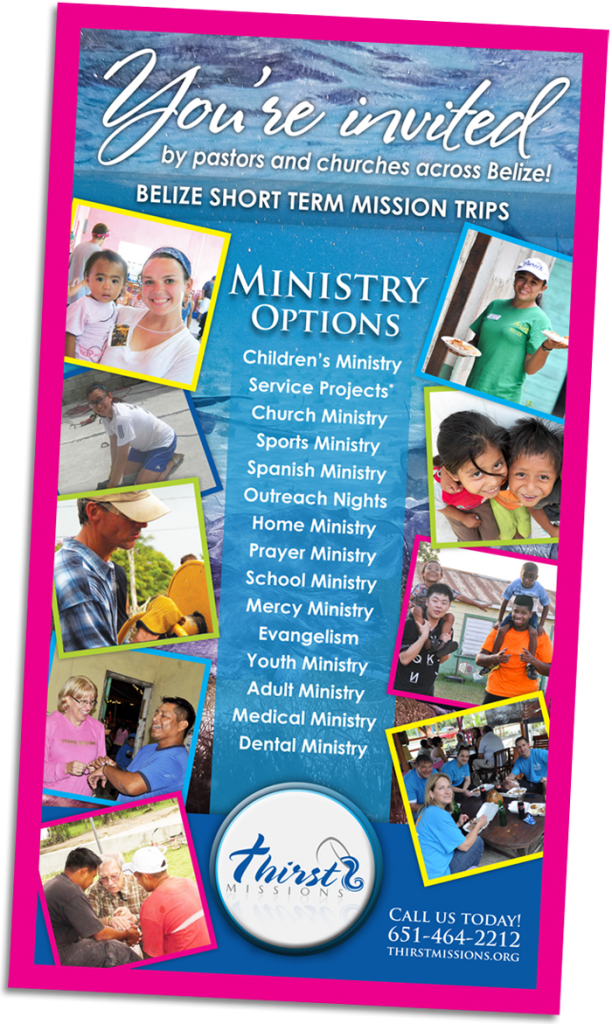 Jason Pfingsten, Founder and CEO – Describing Ministry Options for your group
The ministry that we did was surpassed by the blessings and ministry that God poured back into us. Partnering with these pastors and churches was truly that: partnering. We received so much from them and we were very blessed.

Kala
Thirst Missions is a great ministry to partner with because of their passion to serve the Belizean community.

Rainey, Evangel Church