About Thirst Missions
Thirst Missions, the world's leader in short-term mission trips to Belize, is committed to leading high quality mission trips for every group. We are excited to announce that Alaska and England trips are now available year round!
On each of our trips, we take care of all the logistics and planning so your group can focus on ministry and relationships. Thirst Missions has a staff of 2-4 on every trip who are with your group, taking care of logistics and guiding you through the trip. It is our goal to partner with you to provide opportunities for your group to minister, keep everyone safe, to guide the trip in cultural areas, and to serve your group by taking care of all the behind-the-scenes details. Thirst Missions has led over 400 trips and 8,000 participants since its inception. Participants have comprised most of the 50 States and Canada, and have represented many denominations. We are intentional about every part of our mission trip experiences and take seriously the importance making every trip amazing and impactful. We invite you to join us in Alaska, Belize or England in 2017.
Thirst Missions, LLC is led by Jason Pfingsten, Founder and CEO.
Jason has been leading mission trips to Belize since 1991 and full-time since 2003. Thirst Missions was founded in 2008 to focus specifically on the country of Belize. Jason fell in love with the people and culture of Belize while in college at the University of Northwestern – St Paul ('92) and has been overseeing short-term mission teams to Belize ever since. "I invite you to bring your group to Alaska, Belize, or England and join us in our effort to minster through these diverse destinations. You will partner with local churches and have the opportunity to choose the ministries you'd like to participate in. Our prayer is that your group will be as blessed as the local churches will be whom you minister to and partner with during your trip. Our team invites you to come and serve alongside us."
Jason and his wife Addie live in Centerville, MN with their three girls, Mallory (12), Marissa (7) and Julia (5). They keep busy in ministry, at church, have a passion for travel, spending time with family, and attending their children's numerous activities.
The Thirst Missions office is located in Forest Lake, MN.
We are blessed with 11 amazing staff members who work out of our office in Forest Lake, MN. From trip consulting, to marketing and sales, to finances, it's our goal to serve each trip with excellence and impact the world one short-term mission trip at a time.
A fun and unique glimpse into Thirst Missions. Every day at 9:30AM CST our staff members in the USA and abroad gather together wherever they are at, to pray and uplift all our trips and ministry. We believe strongly in the power of prayer and make it a priority, everyday!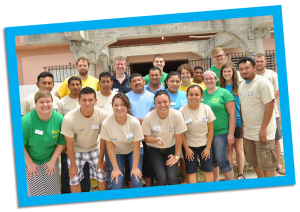 We also have many staff members working in Belize. From full-time staff who follow-up with ministry projects and host pastors year round, to devoted trip leaders and assistant trip leaders, our trip staff members in Belize have a great amount of experience leading mission trips and traveling in the country of Belize. Their faith, hard work, care for people, knowledge of the country and leadership ability are second to none.
We hope that you feel blessed by your trip leader and our leadership staff on your mission trips.
It is our goal to serve your team and to provide as amazing a mission trip as possible, while meeting your goals for the trip and blessing the local church you'll be partnered with. We invite you to join us in fulfilling the Great Commission to a country in great need of Jesus Christ. As you do so, you will be a blessing to the local people and each of your group members will be greatly blessed.

I can't recommend Thirst Missions enough! Thirst's people, methods, and commitment to the church and evangelizing the Belizeans are top notch. While working with Thirst, my team members experienced God in a new way and saw Him work through them. I am very grateful to God for Thirst Missions and our time in Belize.

David, Chapel Hill Baptist Church