Making a Difference Around the World
By Emily Vaughn When I think about Belize, my heart fills with joy. I am reminded of the beautiful country, amazing people, and the experiences that have forever changed my…
By Adam Swenson After Hurricane Maria many Puerto Ricans lost their homes. Thousands went without power for six months or sometimes more. Though power has been restored to the island,…
"Thirst is the most organized group I've ever worked with, which took so much pressure off our group and allowed us to serve more efficiently and enjoy our trip."

Jacob B.
"We couldn't have asked for better guides and coordinators. They were patient, courteous, punctual and kept us informed each day as to what we could expect and if plans were changing, very professional and high quality coordinators."

Ertha Bruce
"Thirst does an amazing job at not only preparing you for the experience, but also organizing the trip itself in order for you to experience a variety of ministry opportunities and understand the culture of the community and its people."

Amiee B.
Reviews
---
We invite you to consider developing a long-term partnership with a congregation in one of our ministry locations. Thirst Missions is excited to be a part of lining up and following through on these long-term partnerships. If this type of long-term ministry is part of your philosophy of missions, we would love to work with you to partner long-term or short-term to the same community and congregation. What a blessing it would be for both congregations!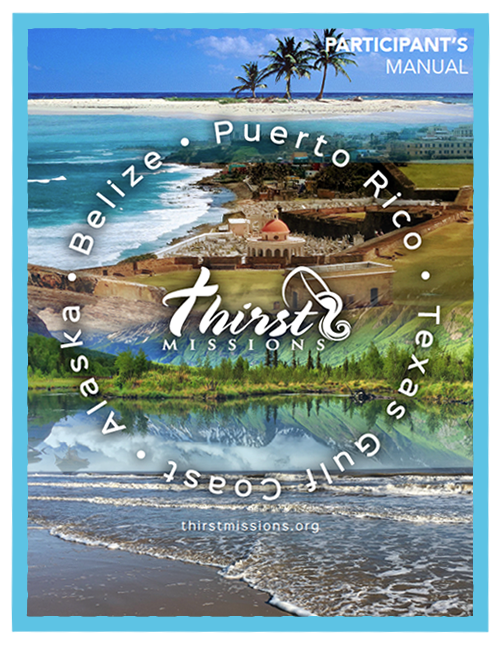 Begin Your Journey With Us
---
Read through our website and contact us with questions about a potential trip.
Register for a trip (takes 2 minutes).
You will receive a welcome email with electronic resources for your trip.
You will receive a package of brochures and promotional materials to help promote your trip.
After your first payment, you will be contacted by a Thirst Missions Consultant to plan your trip. Leave the hard work to us!
You're on your way to your life changing mission trip!