Holiday Registration Pricing
Pricing Information:
All 2023 dates open for registration except for closed dates.
Trip Prices reflect a 6-day, 5-night mission trip/person
Upgrades available:
Additional Days: $99/person/day
Camp/Dorm Stay: $20/person/day
Guest House Lodging: $40/person/day
Please contact us for your customized trip estimate.
Register Now
CLOSED DATES: June 23-July 5, 2024
Why Appalachia & What's Included?
Many different types of mission teams are needed with a wide variety of skill sets to help stem the effects of systemic and generational poverty. According to the statistics conducted by the Appalachian Regional Commission [Jan. 25, 2019], one out of every three Appalachians suffers from poverty; their average income is 23 percent lower than the average level of American per capita income. McCreary County, located in Appalachian Kentucky, is the only county nationwide where most households earn less than $20,000 a year. It is the poorest county in the United States.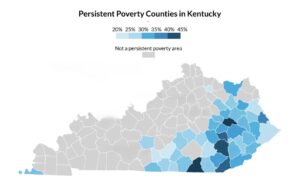 Southeast Kentucky is rich in history, culture, natural resources, and scenic beauty.  Yet, in terms of infrastructure, healthcare, behavioral health, mortality, and economic development, the region lags behind the rest of the nation in almost every category. The median household income in Southeast Kentucky, specifically, is 40 percent less than the national average.
When you bring a team on mission to Appalachia, you are helping small congregations to have a larger impact in their own communities.  Whether through equestrian ministry, mission Bible School and sport camps, general repairs and maintenance of homes and churches, building handicap ramps, or even through skilled construction projects, your team will bring the light and the compassion of Christ to a region where many feel left behind and forgotten.
 Pre-Trip Consultation
Leader & Participant Manuals (PDF)
 Full Hour-by-Hour Trip Itinerary
Appalachia Ministry Partner
 Experienced Staff to Guide Your Trip
 Cultural Orientation & Immersion
 Well-Crafted Ministry Options
Online Trip Portal to View and Update Trip Information
 Worshiping with a Local Church
 Service Project Materials
 Lodging
 Delicious Meals & Snacks
 Purified Drinking Water
 Evening Worship Meetings
 Final Day Recreation
Long-Term Ministry Partnership Opportunity
Participant T-Shirt
Devotional Materials
Kentucky's Appalachia is a vast area rich in history, heritage, and tradition.  The region's beauty and bio-diversity have long been touted by outdoor enthusiasts and naturists since the time of Daniel Boone.  Retrace the footsteps of early settlers in the land of America's first frontier as you minister and bring the love of Christ to people in very practical ways.
Bring your own air mattress and bedding. No A/C
$20/person/day, YES bed, NO bedding, A/C not guaranteed
$40/person/day, YES bed, YES bedding, YES A/C

Service Projects
Clean-up, repair work, and painting in homes and churches

Construction Projects*
Skilled construction repairing/rebuilding homes

Church Ministry
Attend and participate in your partner church

Mercy Ministry
Homeless, senior citizens, hospitals, children's homes, etc.

Outreach Ministry
Outreach events, cookouts, evangelism, prayer walking, etc.

Sports Ministry
Sports camps or pick-up games of soccer, basketball, volleyball, etc.

Adult Ministry
Bible studies, parenting classes, lay-leader training, sewing, etc.

Youth Ministry
Attend, participate in, or lead youth events or bible study

Children's Ministry
Attend, participate in, or lead children's events, Sunday school, or VBS

Other*
*Choosing this option may incur an additional cost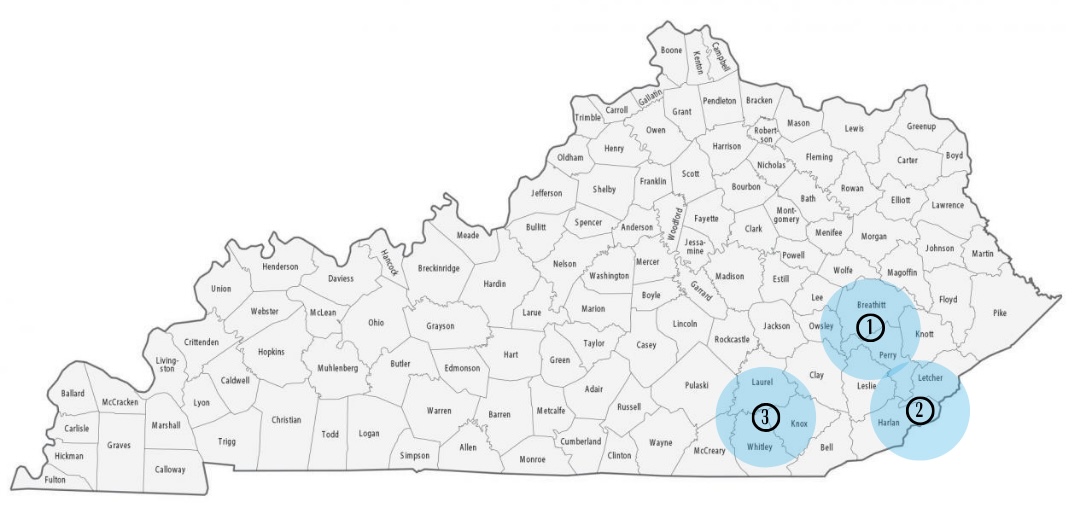 Breathitt/Perry County & Vicinity Trips
Harlan/Letcher County & Vicinity Trips
Knox/Laurel/Whitley County & Vicinity Trips
*Availability depends upon location of ministry
1. Breathitt/Perry County & Vicinity Trips
For teams serving in and around Cordia, Hazard, Jackson, & Viper, KY
Natural Bridge State Park & Red River Gorge Driving Tour
Hike 1.5 miles to the Natural Bridge, high in the mountains, in one of Kentucky's signature State Parks. A driving tour through the Red River Gorge brings one deep into the National Geological Preserve, complete with magnificent natural wonders along the scenic byway.
Kentucky Reptile Zoo
$25/person
This zoo contains over 75 different species of reptiles, including snakes, turtles, lizards, and alligators and boasts one of the world's largest collections of venomous snakes
Red River Adventure Kayaking
$55/person
Stunning kayak tour on moving water through the heart of the Red River Gorge.
Underground Crystal Clear Bottom Kayaking
$90/person
There are new discoveries to be made around every corner of this unique flooded mine. A crystal clear kayak, paddle, pfd, Nocqua LED underwater kayak lights, helmet and headlamp are provided.
Red River Gorge Zipline
$105/person
This thrilling zipline tour sweeps through the Daniel Boone National Forest and above the breathtaking Red River Gorge.
2. Harlan/Letcher County & Vicinity Trips
For teams serving in and around Cumberland, Letcher, Lynch, Partridge, & Whitesburg, KY
Kingdom Come State Park & Bad Branch Falls
Kingdom Come State Park, with an elevation of 2,700 feet, is the crown jewel of Pine Mountain near Cumberland, Kentucky. Admire the beautiful views and then hike along a mountain stream to a 90 foot waterfall.
Black Bear Sighting – Driving Tour
During spring and summer mission trips, enjoy a black bear sighting driving tour in the mountains near your ministry location.
Kentucky Coal Museum
$20/person
This Museum's collection uniquely portrays life in a coal camp and mining town with the most comprehensive collection of mining memorabilia in the nation.
Portal 31 Mine Tour*
$35/person
The Portal No. 31 Underground Mine Tour offers visitors the unique experience of touring an actual coal mine by rail car.
Black Mountain Thunder Zipline (11 Ziplines)
$85/person
11 exciting zipline runs over the forest canopy.
3. Knox/Laurel/Whitley County & Vicinity Trips
For teams serving in and around Barbourville, Corbin, Williamsburg, & Jellico, TN
Cumberland Falls State Park
Sometimes called the Little Niagara, the Niagara of the South, or the Great Falls. Enjoy photo opportunities, hiking, an interpretive center, and the gift shop located on the grounds.
Kentucky Splash Waterpark
$20/person
This center includes a wave pool, a lazy river, a kiddy activity pool plus a triple slide complex and a double slide tower! Also an 18 hole miniature golf course and an arcade.
Whitewater Rafting
$125/person
View Cumberland Falls (from the bottom!), then head downstream, encountering Class III rapids. Lunch is served during a 5 mile cruise to the take-out point.
REGIONAL ATTRACTIONS TO CONSIDER ADDING PRIOR TO OR AFTER YOUR MISSION TRIP
 (Not organized or planned by Thirst Missions)
(from the North)
The Ark Encounter, https://arkencounter.com,  1 Ark Encounter Drive Williamstown, KY 41097, (859) 727-2222

The Creation Museum, https://creationmuseum.org, 2800 Bullittsburg Church Rd. Petersburg, KY 41080, (888) 582-4253

King's Island, https://www.visitkingsisland.com, 6300 Kings Island Dr, Mason, OH 45040, (513) 754-5700
(from the West)
Kentucky Kingdom & Hurricane Bay, https://www.kentuckykingdom.com, 937 Phillips Ln, Louisville, KY 40209, (502) 813-8200

Holiday World & Splashin' Safari, https://www.holidayworld.com, 452 E Christmas Blvd, Santa Claus, IN 47579, (812) 937-4401
(from the South)
The sample itinerary will give you an idea of what to expect on your Appalachia adventure. The trip itinerary will be customized for each week based on the church partner's needs and ministry goals. Each week will be amazing!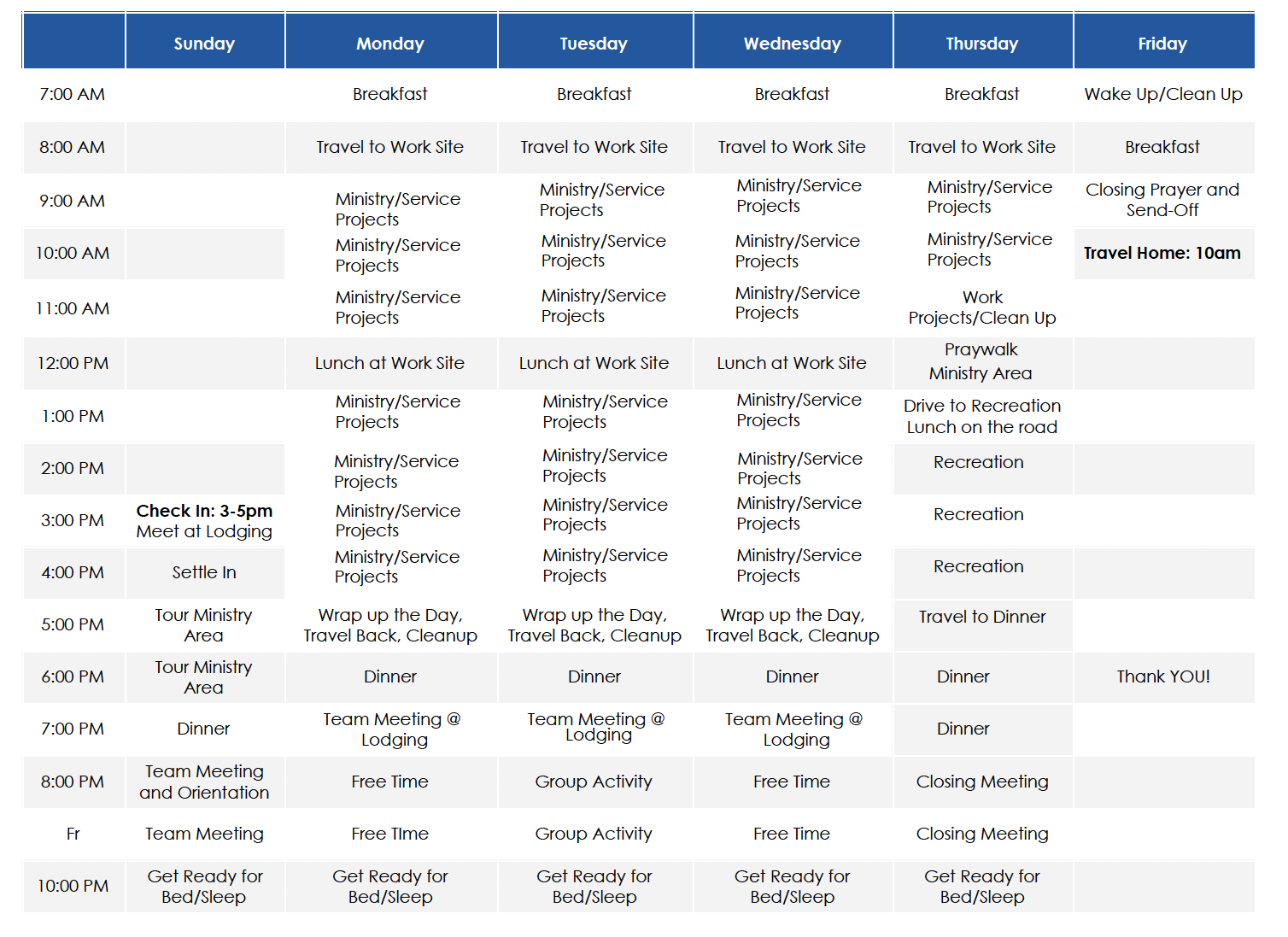 Click here to download the sample itinerary.
FAQ - FREQUENTLY ASKED QUESTIONS
1. What are the minimum and maximum group sizes?
Our private trips can accommodate groups as small as 4 people and as large as 50+. Reduced pricing applies for groups larger than 10 people.
2. Are trips private?
Yes, your group will experience a private trip with your own trip leader(s) and ministry/service projects as well as your own group worship and debrief times.
3. What's included in the trip price?
Ministry materials, lodging, food, and recreation. You will also have a trip consultant to set up the logistics prior to the trip, trip manuals to help your team to prepare, and excellent Thirst Missions leaders while your trip is underway. You will be responsible for your own transportation and bedding.
4. Do we need to bring our own tools?
We will have some basic hand tools and power tools in place. Since most teams are driving to this location, we expect teams to be able to bring some tools. These details will be worked out specifically with the trip consultant.
5. What will we do?
Encourage and help people and communities affected by isolation and poverty through service projects and ministry opportunities. The service projects could include light construction such as home repair, landscaping, painting, and more. There are also many heavy construction needs that will involve skilled work and equipment such as debris removal, plumbing, electrical, masonry, and carpentry work.
6. Where will we stay?
Either in a Guest House, Camp/Dorm stay, or Floor Stay facility. Group members opting for the floor stay may need to bring their own air mattress/cot, sheets, and pillow. Showers and restrooms will be available on site. Those that opt for Guesthouse lodging will be guaranteed air conditioning!
7. What about transportation?
On-location transportation is not included in the price of the mission trip.  You will need to arrange your own team's vans, SUVs, or other transport.
8. What if we want to donate more money or work on bigger projects?
Additional financial donations can be given and projects will be arranged to use those funds.
9. Where will we be serving?
You will primarily be serving and ministering to the people in the Southeastern Kentucky Appalachian counties that are most affected by rural poverty according to the Appalachian Regional Commission. (Harlan, Floyd, Letcher, Perry, Knott, & Pulaski Counties)
10. Will we have recreation time?
Each group will have the opportunity to experience the beauty of the Appalachian Mountains during a recreation activity.  Recreation is complimentary, however, there are upgrades available if you prefer.  What specific recreation will be included depends on the location where you'll be staying and serving during your mission trip.  Your trip consultant will have more specific information for you during your trip planning process.
11. Is the $499 registration fee deducted from my final payment?
No, it's used right away to offset a small portion of planning and preparing for your group's trip. Please read through our generous payment policy and cancellation agreement.
12. How do I select the ministries we desire?
Each group leader will have a missions consultant from Thirst Missions assigned who will go through ministry opportunities in detail. All group leaders have scheduled conference calls to discuss the trip and are welcome to contact their trip consultants about any other questions that arise.
13. Who will the staff be for Thirst Missions?
Each trip will have a Thirst Missions trip leader, as well as project coordinators to help on site.
14. Are any ministry materials provided?
Ministry materials are up to the teams to provide. Examples would be curriculum for VBS, sports equipment for sports outreach, and so on. Alaskan churches will have some resources that the group can use on a case-by-case basis. Most ministries require little in the way of materials. You can ask your missions consultant about suggestions for materials and ministry plans.
15. Are construction supplies included in the cost of the trip?
Funds will be set aside by Thirst Missions toward construction costs. Your missions consultant will give you some project and cost options—if you want to stay within the funds set aside you can, or if you'd like to do a larger project you can donate extra. All the money for supplies will be used to purchase materials which will be onsite when the group arrives.
16. Are there any additional costs?
Besides your trip cost, the only things you'll need money for are souvenirs, church offerings, extra snacks, and money for meals at the airport.
17. How do we pay for recreation?
Payment and reservations for upgraded recreation are made by your team before your time in Alaska. Please work with your Thirst Missions Consultant or Trip leader to confirm your specific reservation.
18. Can you tell us about the food provided?
The food provided will, for the most part, be food Americans and Canadians are quite familiar with. We'll have healthy breakfasts provided in the guest house, lunch most days will be a bagged lunch on the go, and dinners will be hearty meals served at the guest house, at the church, or at a local restaurant.
19. Can I stay in contact with people once I return home?
Yes! You can use Facebook and Instagram or email, call, or text just like you do with your friends back home. Staying in touch with new friends in Alaska is such a blessing and benefit to going and serving.
20. What are some outreach ministry ideas?
Movie nights, worship celebrations, community meals, or sports tournaments are good outreaches. If you have good outreach ideas we are certainly happy to help you make them a reality! Check out our blog for more outreach ideas.