Many different types of mission teams are needed with a wide variety of skill sets to help stem the effects of systemic and generational poverty. According to the statistics conducted by the Appalachian Regional Commission [Jan. 25, 2019], one out of every three Appalachians suffers from poverty; their average income is 23 percent lower than the average level of American per capita income. McCreary County, located in Appalachian Kentucky, is the only county nationwide where most households earn less than $20,000 a year. It is the poorest county in the United States.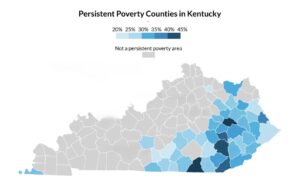 Southeast Kentucky is rich in history, culture, natural resources, and scenic beauty.  Yet, in terms of infrastructure, healthcare, behavioral health, mortality, and economic development, the region lags behind the rest of the nation in almost every category. The median household income in Southeast Kentucky, specifically, is 40 percent less than the national average.
When you bring a team on mission to Appalachia, you are helping small congregations to have a larger impact in their own communities.  Whether through equestrian ministry, mission Bible School and sport camps, general repairs and maintenance of homes and churches, building handicap ramps, or even through skilled construction projects, your team will bring the light and the compassion of Christ to a region where many feel left behind and forgotten.