Ministry Focus: Sports Ministry
By Amircar Fernandez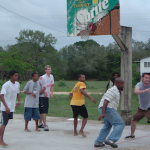 Thirst Missions promotes sports ministry as a great way to get people's attention and communicate the gospel. Thirst has used sports ministry for a long time with positive results. People unite through sports—we see this around the world whenever there is an important competition such as the Olympics or the World Cup.
Coaches, athletes, and churches use sports to get across the word of God and to teach moral values. I played basketball at the college level and soccer on the highest level here in Belize. I see that sports offers a lot more than just a chance to win games or have a good time: sports teaches discipline and values. If those things aren't taught we would have our kids just wandering on the streets and ending up in difficult situations. I highly encourage Thirst Missions participants who are coaches, athletes, or otherwise engaged in sports to consider sports ministry for their next trip to Belize.
What to bring
Belize has a variety of ethnicities which tends to be the driving factor for the types of sports played. In Northern Belize, particularly in the rural areas, soccer (which is called football in Belize) and volleyball are played the most. In the urban areas they also play basketball.
I must say, though, that there has never been any reluctance to play sports other than the ones mentioned. During the many trips I have led I have seen that people are willing to engage in sports once the resources are available.
Basic equipment like a soccer ball, basketball, or a baseball are very expensive in Belize, so if you want to do sports ministry you should bring whatever is necessary from the following list:
Sporting gear
Nets
Balls
Cones
Portable soccer goals (small ones)
Pumps and needles
Prizes (trophies or medals)
Uniforms for the teams (least priority)
How to host a tournament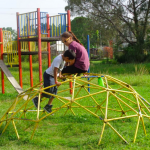 Two teams that have carried out a great sports ministry are Judson University and Seattle's John Knox Presbyterian Church. The John Knox team focuses their tournaments for children. It has worked well as they have had a large number of children coming out every afternoon after school. Earlier in the day their team would split into three parts with one group setting up the field, another working with snacks and drinks, and the third group working on the props. As the children start to arrive, they would be assigned to different teams and given a name tag and a color to identify teams.
John Knox rotated the sports the kids played and built in a ten-minute break for the children to get a snack. Throughout the entire two hours of ministry, the team engaged in discussion with the kids, encouraging the children to seek God and also giving them love. The team would end the day with devotions at the church and would then give teams small prizes.
Getting the children out doesn't happen automatically. During their first day staying at the church the team would go to the schools to invite the children. Prior to the team's arrival in Belize, the church's pastor extends an invitation to the members and also encourages them to invite other children. The team also went out to personally invite the children who live near the church. They printed and passed out flyers and placed a banner in front of the church giving details about the sports ministry: when, where, and what sports would be played.
The Judson team does sports ministry with the adults and youth from the church. They tend to focus on one sport: last time it was volleyball and in 2016, they will focus on soccer. The team prepares only for this sport and can focus their resources on bringing items for the one sport they have chosen. Judson has done an amazing work with their sports ministry as they have been able to get the entire village involved in the sports and as well been able to impart values and morals to villagers who had never had someone talk to them about God.
Judson's sports ministry tends to happen in the evening as they seek to accommodate working adults. Most of the time this event ends up being an evangelistic night because a lot of non-Christian kids and adults want to join in and play. At halftime of each game team members go up to the players to share their walk with Christ, opening many meaningful one-on-one conversations.
Who can help?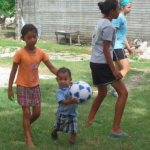 Depending on the size of the team, everyone can help. Small teams assign groups of three or four people to take care of different areas of the tournament or ministry. For example, there can be a group to prepare the field, another to prepare the snacks, another to prepare name tags, another to receive the kids or adults, another group to prepare the Word of God, another to play the sport, and another group to get the equipment ready. Team members who aren't into sports stay behind in the church and do coloring with other children or engage in conversations with adults and kids.
It is very important for the team to have members willing to share their experiences and share the Word of God every day that the ministry is carried out. Pastors do help but the Belizean people are most impacted when they hear from people coming from another country about how God has changed their lives.
If you'd like more information on running a sports ministry in Belize, email us here. We'll be glad to connect with you.
Amircar Fernandez is a fulltime employee of Thirst Missions. He grew up in Belize and is an amazing trip leader. When he's not leading trips he's a great liaison with our Belizean church partners.