Hey everyone. I'm Elizabeth.
Trying to p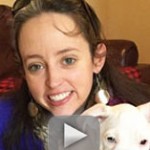 ause and think where to begin is often a weird concept for me. I like to jump right in on many things. However, a little background may do the trick. In 2003, I went on my first mission trip to Belize. This was my first international mission trip and first a bunch of things. Fast forward 12 years and much has changed but I still have a heart for and love Belize.
God called me back to this beautiful country and in the summer of 2012, I started working for Thirst Missions. That summer assisting and leading trips opened my eyes to see more of God's heart and how He had always been and would continue to use me in ways I never thought possible.
Ten weeks of that summer came and went and more weeks the next summer followed suit. They were gone in a blink of an eye but the memories and relationships will always be with me. Working with Thirst allowed me to grow in ways I never dreamed pushing me toward the relational God I love and the people that I adore.
I could not be more excited to now be on staff full time with Thirst Missions. They are my extended family. I am able help with sales, missions consulting and leading trips this coming summer. I am so excited. When I am not working with Thirst, I love to travel, dabble in photography, write, hang out with family and friends, and bake sweets.
If you are interested in a trip with Thirst, we would love to chat with you! Please contact Adam, Kari, Elliott, or myself and we can make that happen or register online!
Thank you for being amazing. I look forward to talking to you soon.
Elizabeth!