Investing in what matters.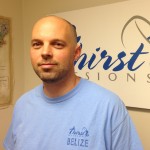 Hello readers. Greetings from St Paul, Minnesota, the soon-to-be-frozen Northland. My name is Adam.
I have been to 30 countries and almost all the states. I've been an editor at national magazines, played in bands, worked on salmon boats in Alaska, and written books. I'm married, I have a homeschooled eleven-year-old daughter with Asperger's, anxiety, and a very high IQ, and a son who died at 11 months old from a heart condition. On top of that I just turned 40.
When you turn 40 it makes you stop and think a bit. I've done many things, had many experiences. I have made good choices and bad, turned toward God and turned away. But turning 40, the question I keep asking is: "How much of what I have done really matters?" And the next question is "How can I invest myself, my energies and talents, in doing something that will make a difference?"
I believe our youth are our most precious resource. I believe they face unprecedented pressures now and that American adolescence is a real minefield. I believe youth pastors have some of the most important jobs in America.
There's a window of time in which kids are malleable, still forming their impressions and beliefs about the world, a set of beliefs which will guide their future decisions. The youth pastor's unenviable task is to keep kids in this 24/7 digital world focused on things of God. The youth pastor must teach kids that greatness lies in servitude and humility.
If you want to be great, learn to be the servant of all.
To make such a shift requires taking kids out of their known context and popping them into another one. One thing travel has taught me is how small my corner of the world really is. There's a bigger world out there. You are one person. There are 7.3 billion others. This is a hard lesson to learn by staring at an iPhone.
I believe that missions is the key to this. Get your kids working and saving for the trip. Get them to plan ahead and to sacrifice something for it. Get them excited.
Take them on a plane to Belize. They will experience real, dire poverty firsthand. It will break them. They will experience people who, in spite of having almost nothing, exude joy and grace. They can carry on conversations (in English!) with kids their own age, inviting them to church and praying with them. They can play an instrumental role in blessing a Belizean pastor and a Belizean church.
They can build and paint and play soccer and run a vacation Bible school. They will work hard and sleep on the floor of the church. They will share and wait their turn. At the end they'll travel to a small tropical island, snorkel on a barrier reef, and thank God for what they just experienced.
And later, when they are 40 and taking stock, they'll look back on this moment as an awakening. If you want to see practically what this looks like, take five minutes and watch this video.
That, friends, is why I am at Thirst Missions.