Ministry options are one of many things that we do as Thirst Missions. We like to think that this is our heartbeat. We LOVE witnessing ministry happen. It is through the ministry options that your group experiences the joy of serving others.
God ha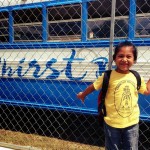 s called us to love one another. In and through God's love for one another we are called to serve.  1 Peter tells us in chapter 4 verse 10 "As each has received a gift, use it to serve one another, as good stewards of God's varied grace."
Each group that joins with us to serve the country and people of Belize brings different gifts that God has given them both individually and as a group. These gifts are used in combination with their partnered Belize church and the Holy Spirit to create and leave a lasting impression and witness for the gospel in the area which they are ministering. The ministry options create beautiful experiences and stories, which we are blessed to hear through you, the partnered church, and our staff.
Thirst Missions caters ministry options to your group specifically. Whether it is Vacation Bible School, sports ministry, or any one of our fourteen ministry options, these are as unique as the people that come on the trip.
God has gifted each of His children with different skills, talents, and treasures. It is our hope that we as Thirst Missions, highlight areas in which God is calling you to serve, to grow and to love. Through our conversations with you and with the Belizeans churches, through prayer, we aim to partner you where God is moving.
If you have a specific ministry option or question that you would like more information about please contact one of us at the office and we would love to talk to you about ministry, missions and the wonderful country and people of Belize.
God works in a myriad of ways. We receive joy in watching Him work in and through the country of Belize, our staff and your church. Thank you for letting us be a part and see a greater glimpse of His Kingdom and His majesty.
Many thoughts and prayers.