The Journey to Caye Caulker (and the Enjoy Hotel)
By Jason Pfingsten

You know how all those quotes say it's not the getting there, it's the journey that matters?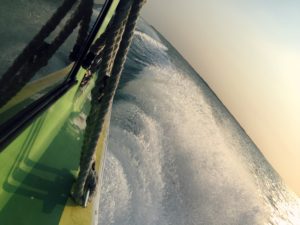 Caye Caulker is a both/and. The journey is always fun and invigorating and holds a special place in my heart. The port in Belize City is colorful and distinctly Belizean with restaurants, coffee shops, and rastas selling meat pies. The boat ride is the aquatic equivalent of a city bus ride taken over aqua blue waters straight out of a high end travel magazine.
And your traveling companions on the boat are always something to write home about. I've shared a seat with everyone from ex-Israeli Special Forces guys coming to scuba dive the barrier reef to leathery Australian expats who've found a home on the caye to children from Caye Caulker who make the daily trek to Belize City for school.
Maybe it's the anticipation of spending a night or two on the Caye, eating seafood straight out of the ocean, seeing old friends, laying in a hammock with a cup of steaming French Press coffee and mini donuts from Ice and Beans, or spending a few hours snorkeling.  Whatever the reason, the water taxi ride to Caye Caulker brings deep relaxation as I anticipate time in the sun and aimlessly wandering the sandy streets.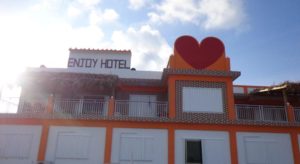 The Enjoy Hotel
This month as the water taxi pulls into the public dock, visitors to Caye Caulker will see a new orange and white hotel looming large in the middle of the island. Just steps from the water taxi terminal is the Enjoy hotel. Its large symbol of a heart is visible throughout the island and the hotel itself is a sign that Caye Caulker is growing up.
We are pleased to announce that many of our teams will be staying at the Enjoy hotel this year. We were honored that the owners allowed us to work with them to design a couple of large and spacious hotel rooms specifically for groups, with each room having five queen beds.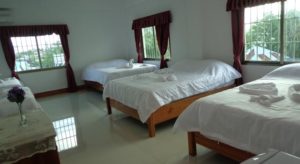 The location is tremendous and the staff are very customer service oriented.  It will be an oasis for many of us this year as we escape to Caye Caulker for a night or two of relaxation and reflection at the end of amazing mission trips.
Jason Pfingsten is the founder and CEO of Thirst Missions. He has loved Belize ever since going there 25 years ago on a short-term mission trip in college.