Sometimes people ask why we take part in short-term missions
in Belize. I hope this post can answer that question to an extent. The short
answer is: We love Jesus Christ, we love Belize, and we love you.
We love Jesus Christ. At the core of
Thirst Missions
is
Jesus Christ. Each of our staff members has made a personal decision to follow
Christ and that decision makes us passionate about making Christ known among
the nations and serving people. Jason is working on a blog explaining why we
choose John 4:13 – 14 as our theme verse and I will be posting our statement of
faith and philosophy of missions in later blog posts.
We love Belize. We love the people, we love the country, and
we love what God is doing in Belize. We feel blessed to be able to be a part of
the larger picture. The churches and Christians in Belize are doing a wonderful
job and our goal is to support and encourage the Christians in Belize. This
support and encouragement is provided by you. Belize is a poor country and the
churches don't have the resources to reach the communities in many of the ways
they would like to. That can be discouraging and that is where your team steps
in.
We believe in the work that the Belizean churches are doing
so when you partner with us we match you with a church in Belize. This gives
you an amazing opportunity to come alongside other Christians and spur them on.
You may choose to do trainings, give the church leaders and volunteers a break
for the week by handling VBS or the youth program, provide the activities and
funds for a community outreach, help build a physical church building, visit
people in their homes or you may do something completely different. No matter
what ministries you take part in you will be building lasting relationships
with friends in Belize and you will be the encouragement they need as they
continue to serve Christ. This is the part that I am most thankful for because
I have seen the lives that have been changed and the ministry that continues.
As an organization, Thirst Missions has continued
relationships with the churches in Belize. Most of our staff is Belizean so
they are continuing the interactions throughout the year. Because of this we
get to see and hear a lot of fun stories. Our hope is that this blog will allow
us to share more of them. One recent event that took place was a great reminder
to me of why we do what we do. We received a picture of a little girl who was
early for VBS because she was so excited after what had happened the first day.
She was waiting for the group to come so they could get started. What a
beautiful picture of what should be happening! One group inspired this little girl
to learn more about the Bible, just imagine where that knowledge and excitement
can go. She encouraged the group, our staff, and the volunteers and leaders of
the local church.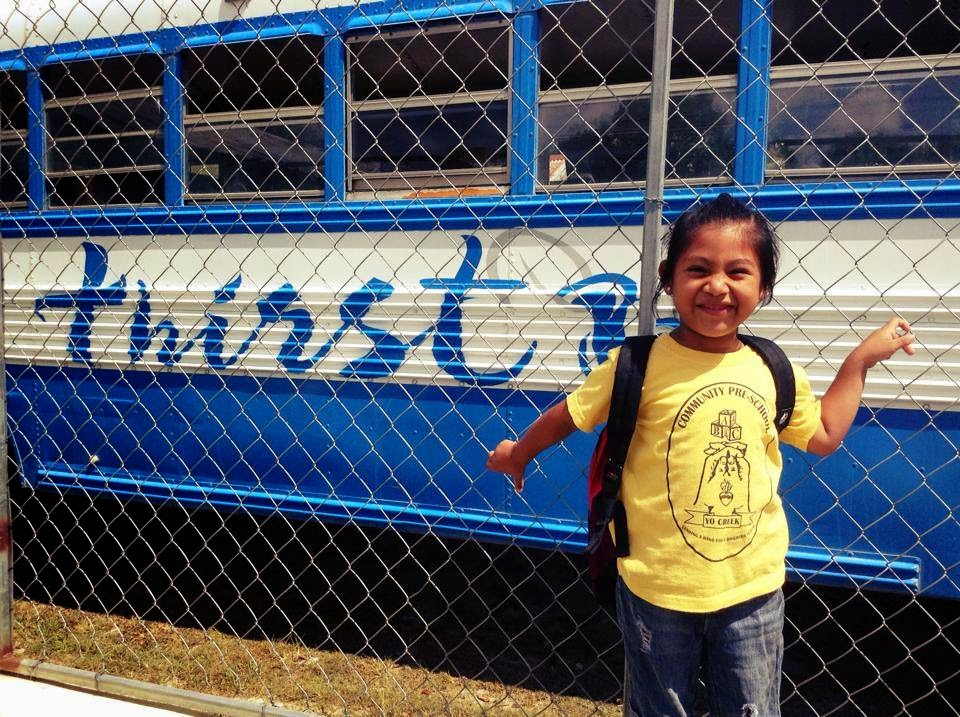 We love you. We appreciate what you are doing to make Christ
known locally and that you are taking part in building the Church in the US and
Canada. We want to come alongside you because we know you are busy and that
taking a short-term missions trip is a step of faith. We believe that short-term
missions is important for your team. It gives you a unique opportunity to build-up,
encourage, and train your team and goes far beyond a trip of a few days. One of
the things we emphasize with our teams is the importance of continuing to serve
and share Christ at home.
If you partner with
Thirst Missions
we want you to know that
you are important to our staff and the churches we partner with. We will do
everything we can to come alongside you, answer your questions, and help meet
your goals for your short-term missions trip. We work hard to make your trip
unique to your team because we value you.
I hope this post gives you some idea of why we do short-term
missions. As we continue to post I pray that you will enjoy the stories of
lives changed by Jesus Christ and relationships that are made along the way.
In Christ,