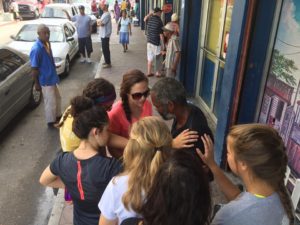 With 500 mission teams; ongoing missions in Belize, England, and Alaska; and over 75 years of missions and ministry experience among our staff; we at Thirst felt the time was finally right to jump into the podcasting world. WHEN HELPING HELPS will be hosted by Jason (Thirst founder and uber fantasy sports geek) and Adam (a musician/author/traveler/funny guy who does a lot of things at Thirst) and feature frequent guests from our missions world.
Guests will range from thought leaders in modern missions to Belizean village pastors, experienced mission trip leaders, long-term missionaries, international relief workers, and pastors from small-town Alaska or inner-city London.

Keep It Real
Missions can be quite serious, but let's be honest—it's also a lot of fun. We'll try to keep that balance in mind with a lot of banter (and probably far too many puns) while still getting into the meaty stuff, like:
Cultural training and sensitivity
The importance of partnering with a local church
80/20 rule as applied to missions
Respectful evangelism
Guidelines for effective partnership
A behind-the-scenes look at missions planning
An honest take on pastoring in Belize
Who benefits from missions?
If you're a podcast fan, keep an eye on our Facebook page. We'll announce our first podcast soon!