Seeing God in School: School Ministry in Belize
By Adam Wachtman

In June 2016, WakyMC Student Ministries went on our second youth mission trip to San Jose, Belize, with Thirst Missions. Many members of our team who went on the first trip were wondering how this second trip would be different from the first. After the question was addressed at our first mission team training we prayed for new opportunities and experiences. Through that prayer we were led to try school ministries for the first time.
Something New
God set things in motion before we even arrived. Our team of students prepared many great games, teachable American lessons, and even some funny skits. When we arrived at school on the first day we found out that this week was the last week of their school year. That made us both excited and nervous as we didn't know what type of response we would receive from these kids.
Glory be to God that all the students, staff, and administration were very open to our visit and willing to participate in our activities. We played some classic American school games like Four Corners; Heads-Up, Seven-Up; and Hangman, and we sang children's church songs like Jesus Loves Me and This Little Light of Mine. We taught age-appropriate academic lessons like writing complete sentences and math races, and we even did a few science experiments.
The best part of our time, however, was meeting the kids and teachers and sharing with them the love of Jesus and that we love them too. To our surprise, both the students that we brought on our team and the kids who attended the school looked forward to school each day. The kids were open and willing to try our silly games and listen to different American teachings.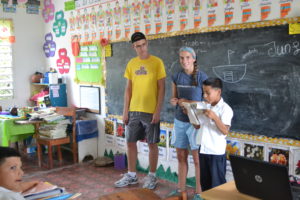 From School into VBS
With the help of Thirst Missions we were strategic in scheduling our VBS program immediately after the school ministry. Every day we invited the kids at school verbally and passed out postcards for them to share with their family and friends. As a result our VBS program was overflowing with kids anxious and ready to do whatever we had prepared.
We believe that breaking that initial barrier at the school created trust and built a connection for them to want to attend VBS. We were able to display love and encouragement at the school and our VBS program each day. God's hand was directly involved with us and the people of San Jose.
We will have no hesitation to add school ministries to the schedule of our next mission trip to San Jose. And thank you, Thirst Missions, for your continued support and love for the people of Belize. Thank you for providing an incredible experience for our team to love, serve, and build connections with the people and the church in Belize.
Adam Wachtman is the youth ministry director at Wakarusa Missionary Church in Indiana.